Having a professional website design is necessary for almost every business nowadays. A professionally made website operates as a marketing platform, online store, display of skills or services, and even a communication channel.
Web design trends are constantly changing. If you're a business owner, it's important that your website design will make a professional impression.
Here are:
6 Important Tips in Creating A Website That Will Make A Professional Impression
Keep it clean and simple
Your website should be visually appealing but clean and simple. Remember that your website reflects your company and your products/services. Most websites get a bit heavy with all the banners, Ads, icons, buttons, etc. Why not embrace simplicity by using flat designs or white spaces? Keep a minimalistic approach in attracting and keeping your visitors' attention.
Only put relevant content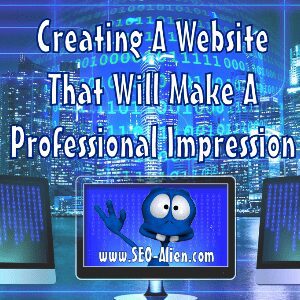 The substance of your website is the content. Only put relevant content to your site.
Increase your customer's confidence in your company by providing them with informative and helpful information. Design a website that will not overwhelm your visitors. 
Clearly label your topics and break the body into small paragraphs for better readability. Grab their attention by using compelling yet concise and clear information.
Graphics and snappy videos can also have a positive effect on your visitor's experience. Use them appropriately to inspire your visitor. You may provide downloadable videos, podcasts, forms, and presentation. In case your visitors can't stay long, at least they can take some of your information with them.
Functionality
Your site should work correctly and quickly. Poor functionality will frustrate your visitors. You want to impress your prospects with a functional and fast website. When you design a website, every component should perform as expected. Hyperlinks, forms, site searches, and registration must be error-free.
Improve Website Usability
An often overlooked component of a website is its usability. Your site must be easy to navigate. Some of the important usability elements include:
Consistent website layout is highly important for usability. Repeat certain components throughout your website. Place the menu on top or put items on a sidebar.
Through simple and well-organized content, you'd be able to keep your visitors.
You don't want to waste your prospect's time. Most visitors don't dwell on sites that are slow. Faster loading of web pages is important when you design a website.
To reach a wider audience, your site should utilize cross-platform/browser compatibility. Your website should run in different browsers like Google Chrome, Firefox, Safari, and Internet Explorer.
Create a mobile version of your site
A good, professional-looking website must also have a mobile version. You surely don't want to miss out on potential clients just because they're not in the office or they're out and didn't bring their laptops. One way to widen your audience is by creating a mobile version of your site.
Mobile websites are specifically designed for the different mobile screens, greatly enhancing user's browsing experience. This will also make your site navigation easy on smartphones and tablets. A mobile version is vital when you design a website.
Invest in SEO
SEO targets online users who are in search of products and services. SEO is one of the most widely adopted online marketing strategies due to its effectiveness. By putting your website in top search results, you'll get more visitors.
It's essential to know the factors that can make or break the effectiveness of your website. A website is more than just a tool to build your businesses online presence, your website has other jobs to do as well.
Your website attracts customers and gives you more sales. This job can be effectively done by having a website that will make a professional impression.