Email templates are essential for both the big and small business. It is the cipher that describes the structure and content in an email campaign.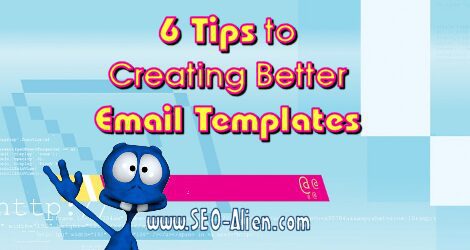 Email templates allow small business owners to design fancy email templates without any HTML experience. The email designs that are available allow them to look like and compete with the larger companies. With all the different templates, what is the best one to use for your business? 
For any successful and professional looking email campaign, a business should have a unique design to their emails and newsletters.
Choosing the right email template for your business email will make a huge impact on the way that people will look at your company. A well-designed email will show that you are professional and allow you to more easily examine your email marketing efficacy.
Here Are 6 Tips on Designing Email Templates for Small Business:
1) Design Your Email Templates to Fit Your Brand
Using an email template will help you create email campaigns much quicker because the essential code is already created. When you design your email, choose an email template look and feel that will match your brand's overall appearance and feel. Have a company logo designed for your emails and incorporate your company's colors in the header of email templates.
It is important that you are satisfied with the look of the email because you should always use that same template with every email. You want people to recognize and feel comfortable clicking links that are in your email.
2) Design Your Email Templates to Fit Different People
It is extremely difficult to make everyone happy, but keep in mind that you are sending emails to different people. The email you're sending should not only include the content they content they signed up for, but the look and feel of your email should fit your audience as well.
In order to effectively accomplish this, segment the emails you send. Segmenting your emails will allow you to diversify the look so you can better connect with your audience. For example, if you have people's ages in your data, keeping your companies overall look, use a different header "feel" for people 21-35 than the header for people that are 36 and older.
3) Dictate Color Scheme
Use one email template. There is no need to rewrite a completely different email from scratch for every email you send. You can simply edit the text, images, and links in the original template you created.
Using the same template makes it much easier to keep consistency with your brand.  Having a visually pleasing color scheme to your emails, keeping your fonts, colors, and borders the same with every email you send will help you build trust and recognition with your reader.
4) Use Basic HTML Text and Fonts
With all the options that are available with most email providers, it is easy to over do it. Don't. No matter how easily you are tempted to use some of these extravagant font's or looks, keep it simple.
Your email template should use basic, (or common) HTML Text and Fonts such as Arial, Calibri, Bookman Old Style, Georgia etc. Over complicating the fonts make look cool to you, but they may not so much to your reader. Using common fonts will make sure that your email can be easily read by everyone.
5) Establish Your Identity
Part of building your brand is branding your identity. Emails will allow you to establish your brands' identity as easily and effectively as the most expensive types of advertising and marketing. You want people to remember you and want to open your emails.
How often you email your lists, making sure the content has the information that people signed up for will help in stopping people from unsubscribing from your list, but there is always a chance they will. Don't be over-sending the same old stuff.
Your identity will be directly proportional to the information you are sending, and the looks of the way you present this information to people. Hence, you should establish your identity in email templates and illustrate your company's values by not abusing your lists by sending them "too much" in both email content and looks.
6) Keep Your Emails Length Consistent.
When creating a new email, using the same template will allow you to keep your emails length consistent. Don't make them too long. Too much and people will move on. The most effective emails will have short, effective calls to actions with links to the source, to drive people to your website or article.
---