There was a time when marketing a dental practice mostly involved sending postcards in the mail, distributing brochures, or if the budget allows, getting some rather expensive TV or radio airtime.
Today, with most dental practices having their own websites, the marketing battle has shifted to the Internet, and SEO has become the weapon of choice.
With more and more people looking for products and services using search engines, SEO should be an indispensable part of your dental marketing strategy, since it is the best way to become visible on Google and other search engines. Here are some SEO practices that will improve your chances of getting found and benefit your dental marketing strategy as a whole.
Link building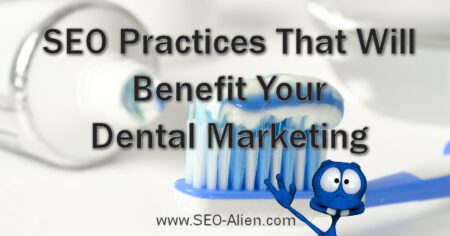 To be seen by users, you need to get a good ranking in the search engine results pages or SERPs, and one of the best ways of becoming visible there is link building, which is the process of getting external sources or websites to link back to your dental practice website. The more links to your site, the more authority you have as far as the search engines are concerned, and they will rank you accordingly.
There are myriad techniques that you can use to build links, including guest posting, creating citations on local directories specific to dental practices, press releases, creating infographics, and many more.
Keyword research
No SEO strategy ever gets off the ground without conducting keyword research. Keywords, after all, are what users type into search engines when looking for something, and you need to rank for those keywords in your niche to drive traffic to your site, among other things. Keyword research allows you to find out the specific keywords you can target and hopefully dominate to bring you the most traffic. There are many free keywords research tools that you can use, including Google Analytics and Google Webmasters.
Creating original, relevant, and useful content
Assuming that your dental practice website has a blog, you have to come up with content that's not only original and relevant but also useful. People will always need dental advice, and they will want to find out how to deal with common dental concerns. So write original articles that will give them advice on how to deal with bleeding gums, or show them the difference between traditional braces and Invisalign, or even dental insurance. Of course, proper dental care tips will also be attractive to them.
With such high-quality content, you can position yourself as an expert in the field, and that will help improve your website's authority in the eyes of people, and hopefully, the search engines as well.
Internal Linking
To be honest, many SEOs tend to neglect internal linking, but linking from one page in your website to another page within the same domain improves your SEO. With internal linking, you allow your readers to navigate your website easily, giving them access to more of your content. Internal linking is also quite useful for spreading link equity or ranking among the pages in your website.
Mobile SEO
In a world where mobile users outnumber desktop users, it's only logical for your dental practice website to be mobile-friendly. When your site displays well across all types of smartphones and tablets, you have to use techniques that will improve your mobile SEO such as boosting your site speed, avoiding heavy images, plugins, and pop-outs, reducing redirects, and improving readability.
These are just some of the many SEO practices that can help make your dental practice easier to find. While results may not come as quickly as you would want, but SEO can and will improve your rankings over time, and eventually lead to more patients for your dental practice.