Twitter is one enormous online conversation between random people all across the world. There's some organization to it, with hashtags and trending topic, but for the most part it's a free for all that we, the Twitter users of Planet Earth, get to make up as we go along.
Guest post by Matthew Yeoman: Since Twitter is highly unregulated, it has lead to some odd things developing over time. This is due to the high numbers involved, as well as the quirky nature of Internet users. Read on for 5 Twitter facts that you likely didn't know when you woke up this morning
Katy Perry Owns it All
Katy Perry has over 66.2 million followers as of this writing. That's the most out of anyone on Twitter. Even more than USA President Barack Obama! Now you can say something like that and have it as just some empty numbers, or you can look at it like this:
Katy Perry has more people on Twitter listening to her than the Presidents of France, England, Italy, South Africa, and Spain have citizens listening to them.
Watch out for the 'Establish Katy Perry Nation" campaigns to come. If it's like the Candy Land world in her 'California Girls' video…I'd live there.

The most retweeted message is far above the rest
The power of celebrity, and a TV talk show, helped this tweet reach monumental numbers after the 2014 Oscar ceremony:
The message was very hyped up by Ellen on her show before it happened. Its success was expected, its dominance was not.
The next closest was President Barack Obama, but he only managed 2.6 million fewer retweets:
There are many ways to increase Twitter engagement – being a celebrity or a President is two that should now be added!
None of this really matters: The most favorited tweet
One Direction's Harry Styles is the master of the favorite on Twitter:
The message? Dumb. The account being mentioned? Dead, with just 1 tweet sent, and 2 accounts followed. The message has received 23,000 favorites for nothing at all!
If you want to see a tweet that actually deserves to be favorited, check out Drake:
mad respect.. https://t.co/Ehp28L4cr0

— Drizzy (@Drrake) November 24, 2014

This was a comment on a footballer player's quest to honor his late brother. It has meaning. The one from Harry Styles? Not so much!
Twitter fails at tweeting – beat by YouTube!
Twitter's official account currently has 35.6 million followers:


That's a respectable number. Don't we all wish we had 'failed' that bad at tweeting? Well, take a look at how YouTube's Twitter account totally owns Twitter at their own game with 49.3 million followers:



You could chalk this up to the power of video marketing as more people go online to watch video, as well as the rise of social search.
The most used hashtag shows us again that this doesn't make sense!
There have been some very powerful hashtags over the years:
#Egypt
#OccupyWallStreet
#YesAllWomen
And the list goes on. For every good cause that becomes associated with a hashtag, there's at least 5 that are created strictly for the LOLZ. Worse still, there are those which have served their purpose, but which continue to be tweeted.
One such example is #vote5sos. This was a hashtag used to vote on the 2014 MTV VMA's. which happened over 6 months ago as of this writing. The idea was to tweet out the hashtag of the band you liked best for a fan choice award. Apparently the fans of 5 Seconds of Summer didn't want to just win – they wanted to win FOREVER: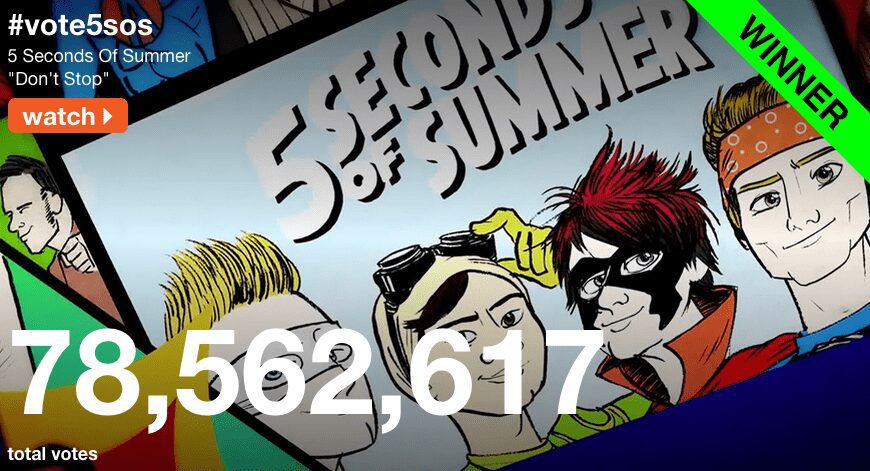 Yes, over 78 million votes. Meaning over 78 million tweets with the hashtag, have been cast for #vote5sos since the contest started, and it is long over now! Here's a tweet that was sent while I was writing this piece:
They're clearly just messing around now!