Using your Blogs RSS feed can help create a better footprint for your websites articles, but the subject alone of "Really Simple Syndication" (aka "Rich Site Summary") can not be simple at all. This is my "Beginners' Guide to RSS Feeds for the Non-Techy" on how to get the most SEO Juice from your RSS Feed.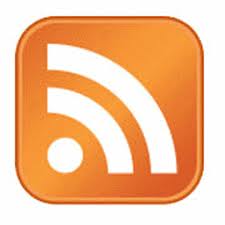 The intention of this post is not to give you a history of RSS Feeds, what is a RSS Feed or who even invented the RSS Feed. If you are looking for that information go to Wikipedia. However, if you are looking for a few creative ways to use RSS feeds for SEO Juice, then please read on!
Getting Started with RSS Feeds
The easiest way to understand a RSS Feed is it is a  way to get information to go from "here" to "there", typically in a snippet format showing only the Title and/or the first paragraph of the article with a link back to the original source.
Your WordPress site has the feed already built in. All you need to do is add '/feed' at the end of the URL. Using the SEO-Alien as an example, here are a few of the RSS Feeds that we can use;
As you can see, you can get somewhat creative for your WordPress RSS Feed.
"But now what do you do with a RSS Feed?"
Method 1 – Using Third Party RSS Feeds as Content for Your Site
For now, let's keep it very simple so you can see how a RSS Feed can work on your own WordPress Blog.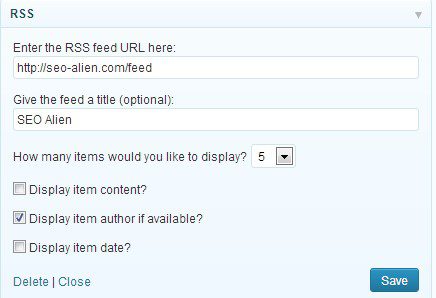 Using the main SEO Alien Feed, (https://www.seo-alien.com/feed), Log into your WordPress Admin and navigate to Appearance->Widgets
Drag the RSS feed widget into your side bar.
Add  'https://www.seo-alien.com/feed' in "Enter the RSS feed URL here:"
Give the Feed a title
Choose how many items to display
Select the options. Personally, I like to not display the Item content. By not choosing that, it will only display the title as a link.
Choosing the "Display Author" will give it a bit more credibility.
Below is what the widget will look like on your site depending on the settings you chose.
I am not saying to use my RSS Feed, (but you can if it works for you), but what you can do is search for RSS Feeds that fit the niche of your Blog. When choosing a RSS feed, look for one that is updated often. Google, when it crawls your site, will actually see that feed as updated content, giving the spiders a reason to come back for more.
Here are  two good RSS Feed source to find relative content for your blog;
Cnet Category RSS feeds
Feedzilla.com Category RSS feeds
Now you might say that doing this will drive traffic away from your site…. that may or may not be true, but it is a give and take thing. Consider this;
Choosing a good feed will update your site showing Google your site is being updated with new content.
Choosing a quality feed will show Google that you have relative backlinks to good sites.
 Method 2 – Submitting Your RSS Feed as Content
There are several sites that will allow you to submit your Sites RSS feed. Some require a reciprocal link on your website, some do not.
What this will do is actually three-fold. By creating an account and submitting your RSS Feed you will get;
A great online profile that will very likely appear on the Search Engines
More visibility for your articles which will result in more traffic to your website
Every time you post an article, it will be 'pulled' into that site, creating  valuable backlinks and will also will result in Google's spiders reading that link, which in turn can result in faster indexing of your article.
If you do some research you will find some great sites that will pull in content. Some are easier and faster than others to set up, but here are a couple places you can start.
Here are a few sites you can start with. I also included the SEO-Alien profiles so you can get an idea of what they will look like.
| | | |
| --- | --- | --- |
|  Site |  Description |  Sample |
| triberr.com | Probably one of the easiest sites to submit your RSS feed to. What does Triberr do? Triberr solves the number 1 problem 99% of bloggers have. How do I get more eyeballs on my content? | http://triberr.com/profile/?pid=35911 |
| Bloggers.com | Get to know Best Bloggers around the world and Follow your interests. | bloggers.com/SEOAlien is my main profile but click here to see how the articles from this blog are automatically 'pulled' in. |
| Empire Avenue |  Empire Avenue is a stock market simulation social network game that allows users to buy and sell shares of people and websites |  empireavenue.com/seoa |
| FeedAgg.com | The goal of FeedAgg.com is simple; find the best blogs and news feeds on the internet and then rate and sort them through the independent actions of our visitors. | Hint: Use your main sites RSS feed, do not use an alternative feed like Feedburner or they will remove it… ask me how I know 🙂 |
| Technorati.com | Technorati is an Internet search engine for searching blogs. By June 2008, Technorati was indexing 112.8 million blogs and over 250 million pieces of tagged social media | technorati.com/blogs/seo-alien.com |
| Networkedblogs.com | With NetworkedBlogs everyone can publish to Facebook, Twitter and get followers for free. | networkedblogs.com/blog/the_seo_alien |
These are only 6 sites, but there are literally dozens, if not hundreds of sites that you can sign up for that will pull in your sites RSS feed.
There are many other things you can do with your feed like add it to Feedburner and promote it, but that will be another article.
I hope this is enough for now to give you some ideas and a place to start using third party RSS feeds for content and using your own sites RSS feed to get some extra SEO Juice and more traffic to your site.
[flexsig]