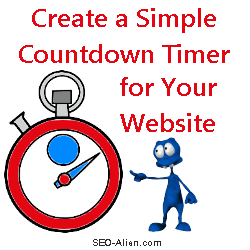 Here is a simple JavaScript countdown timer that can be used for your website and/or your squeeze pages.
Countdown timers can be used for all sorts of things, to show shipping deadlines, event deadlines, or to create a sense of urgency. If you do online webinars you can use them to get your fan base excited about an upcoming online event.
I was searching for simple, easy to install WordPress countdown plugin for one of my squeeze pages, trying about 5 of them, I gave up and looked for another solution. Searching for a JavaScript seemed to be the best bet. I found an easy to configure countdown timer that was pretty darned simple, (See it in action below).
It is a script that I found at scripts.friendsinwar.com, though I did edit is slightly below with a frame and background color.
It's as easy as;
Uploading the countdown timer script and jquery map to your server.
Edit the date you would like the countdown timer to end at from the 'script.php'.
Add the code where you would like it on your squeeze page or post.
… and just like that, you have your countdown timer!
Oh yea, almost forgot to mention.. it is a mobile friendly countdown timer too!
Time Sensitive Offer!
(Not really, just wanted to show the effect.)
Enter your Name and best email below to get the script and the instructions to add it your site or squeeze page!
Countdown is loading….
Download the script and instructions by entering your information below