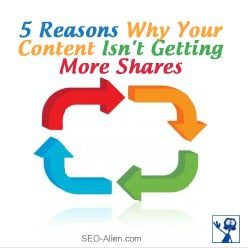 No matter what the content is you are sharing, here is a great infographic on what can help make your content "Shareworthy".
I have been sharing a lot about quizzes lately and how viral they can be on social media sites. This infographic seems to go right along with quizzes and how you can make them even more engaging than they already are.
Though being viral, in my opinion, should not be your main strategy to your content marketing, being "share-worthy" for sure should be. The viral part is a result of good content.
Hope this helps give you a few ideas that will help your content get more shares and likes!


5 Reasons Your Awesome Content Isn't Going Viral
What Makes Your Content Shareworthy? Source: WhoIsHostingThis.com
[flexsig]