What is your Tweeting Influence? Twitter puts allot of "search" weight on your account depending on your tweeting habits and followers. So who is following you, who are you following and what is your overall influence? Here are some pretty entertaining tools to check your Twitter Influence.
Understand that 21% of Twitter accounts are empty placeholders and Nearly 94% of all Twitter accounts have less than 100 followers, who is following you and who you are following has allot to do with your overall Twitter influence.
Here are a couple of neat Tweeting programs that you can use to check your Twitter Rank, Twitter Influence and Twitter Score.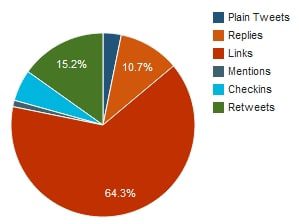 twtrland will give you a variety of stats including:
How many Tweets per Re-Tweet
Average Tweets Per day
How often you Re-tweet
How often you are Favorited
You most popular Tweets
Your top followers
Top Plain tweets
Top Link Tweets
FourSquare Checkins
Mentions

tweet.grader will tell you how Influential Are You On Twitter? Tweetgrader will check your:
Account Summary
User History
Quick Follower Check
Tweet Cloud
Tips and Suggestions
| | |
| --- | --- |
| | klout.com – Klout began with a very simple idea: Everyone has influence & the ability to drive action. Klout built on this idea to show anyone how he or she can influence the world and its future. |
| | kred.com – Kred is a completely transparent scoring system. We think it's important that you can see why your score changes, so we are the only social scoring system to publish transparent activity statements for everyone on Twitter and people who have connected their Facebook accounts to Kred |
| | peerindex.com – Peerindex provide a service to help consumers benefit from their passions, interests and influence particularly with respect to the services they get from companies; and for brands and agencies to better identify effective and interested word-of-mouth advocates, that we call Influencers. |
| | goodreads.com – Goodreads' mission is to help people find and share books they love. Along the way, we plan to improve the process of reading and learning throughout the world. |
| | hootesuite.com – The leading social media dashboard to manage and measure your social networks. HootSuite is an essential tool for managing social networks by allowing teams to efficiently track conversations and measure campaign results. |
| | socialbro.com – Get accurate information about your community using different search criteria that will help you to make strategic and error-free decisions. Take advantage of knowing exactly who shapes your community: where your followers are from, which language they speak, their activity on Twitter, etc. |
[flexsig]