You may have noticed that the SEO Alien is a member eHow.com. Evidently, by writing an article you can make a little cash from the click through traffic. That was not why this Alien joined though. We noticed that articles when titled correctly, will "pop" for good keyphrases on the search engines. We did it for Search Engine Optimization results to get our articles noticed at to top of Google for Competitive Search Phrases, the little extra cash was a by product for something that we are doing already.
We have several e-how accounts for different purposes, but when you ad up that little extra cash, it was beginning to become a nice little extra source of income. How much you ask? Enough to warrant us to write this article to tell you about it.  However, you will have to give your "How to" articles a little extra SEO  "Uumph" to give them some juice… (hint: bookmark, twitter, etc.), This is great for the beginner SEO person, you can have a little fun with a fairly easy site to set up and see how good you are at your SEO techniques and then get paid a little for it.  The better the article is SEO optimized, the more you will make!
For example, Google "How to create and use a RSS Feed" and the Aliens article on eHow will be either on the first or second page of Google for that search , not bad considering we have done nothing more than writing the article and and then posting it. The only extra we did was ad it to our Twitter Tweets and bookmark it to a couple Social Bookmarking Sites.
The article (posted 12/20/09) has had (to date of this post) 138 views and has earned us a whopping $0.58! However, we have about 30 articles out there,  some articles making more than $4.00 per article per month. We kinda look at like free gas!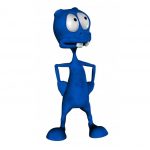 So, you do the math and see if this is worth the little extra time to write and submit an article to eHow? That is for you to answer, not us.  But, if you are writing articles to promote your business, product, website ect, this is great for SEO results. If you hate writing articles and aren't doing it, maybe it's not for you, but it's a great place to start!
For those that would like to move forward, here is what you will need to have to get started:
A PayPal Account: They will auto deposit when you earn a $10 minimum balance.
An eHow Account: (no, this is not an affiliate program). Please note, after you have created your eHow account, you will not be able to submit a "How to" article until you have created your PayPal or other payment arrangement.
We also would like to warn you about this. eHow is somewhat frustrating at times, it may time out or do just strange things and you may loose your article and that can get frustrating. Our suggestion is to copy the fields you will need from eHow and into a txt editor like Notepad. Then write, save your article and then copy and pastes in into eHow. To loose something you spend 20 minutes on is one time to many. The Alien has warned you 🙂
The other thing is, you aren't going to do much on just one article, write several. Also, we are not really endorsing this as something you can quit your day job on, (though it  may not impossible). This is really just something that you can use to have a little Alien fun with and make a little pocket change for doing nothing more than you may be doing already.
One last suggestion. If you make these articles related to your business / websites or blogs, you can add backlinks to your stuff in the "resources" section of your article. (near the bottom, and they are defaulted to "nofollows". but it is still a backlink.)
Have fun, any comments or questions, please let us know!