Google forms is making it easier than ever to capture names and emails and build your email list. You can even create auto-responders and re-directs!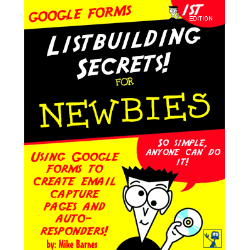 Using Google Forms, it is possible to create your own marketing campaign and start capturing emails that you can market too. 2XDFU2PGKJTK
There are several different ways that you can use Google Forms, here are 4.
Surveys: Get peoples opinions on any subject and add an email spot on the bottom of the form
Free Downloads: Send people an auto-responder from Google forms that send them a link to your offer.
Support: You can use Google forms as a support system.
Embed the forms on your site or on Social Media Sites
To set up a Google form for any of the above is really quite simple, but there are many other features of Google Forms that you can put to use that are quite valuable as well.
Send out auto-responders
Be notified when anyone completes the form
Create redirects to another "thank you page" other than the default one that Google forms use.
Keep all the data in an Excel spreadsheet.
List Building Secrets for Newbies!
Learn step one! Creating an Email Capture Page w/ Auto-Responder
Using Google Forms!
Get Volume One Now for No Charge!