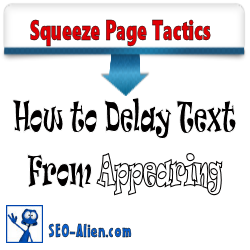 Making your text appear after a certain amount of time is an effective trick for squeeze pages. Having your "Call to Action" appear on que under a video can be especially cool!
Ok, here's is how it works! Wait a few seconds and see what appears right below this sentence.
How cool is that!
The idea here is to have a video above that hidden text and at the exact time during the video when you say "enter your name and email below" you can have the form appear!
Not only will you get more people to watch the video because they don't see your form until you want them too, but you will get more sign ups simply because it is… neato!
How to Delay Text from Appearing
Step 1
If you are using WordPress, copy and paste the 1st code below into your Theme Header (header.php) before the </head> tag.
In the 'theDelay = 5' above, the 5 represents approximately 5 seconds. Change it for what you need.
Step 2
Next, in your post or page, from the text editor, use these opening and closing tags as shows below.
And that is how easy it is to keep text from appearing until a certain time! Perfect for video squeeze pages!