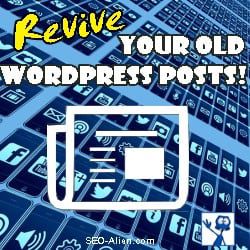 Do you have a blog with a lot of content and want to get a little extra life out of your older posts? Here is how you can publish old posts from WordPress to Twitter and Facebook automatically!
I have several blogs that I have posted once a week to for well over 4 years. Tons of good content just sitting there waiting to be found. I used to manually take old posts and share them again on Facebook and Twitter to give them a little extra life, but now they are automated to where those sites are posting past content once a week to Facebook and once every 48 hours to twitter… on auto-pilot.
I don't recommend this if your older content is out of date*, but if it is still relevant, this can give your old posts new life, as well as overall website traffic. (I would also advise not to abuse it by re-posting too much to often.)
 *

These are great plugins for re-posting product pages and posts

 * Here is another idea for this plugin if you do have old, outdated content… you could use these plugins for a #throwbackthrusday post. You can set it to post only older posts every Thursday.)
Tweet Old WordPress Posts
Revive Old Post (Former Tweet Old Post) is a WordPress plugin keeps your old posts alive by sharing them and driving more traffic to them from social networks. It also helps you to promote your content. You can set time and no of posts to share to drive more traffic. Automatically Publish Old Posts from WordPress to Twitter!
Revive Old Post provides following features
Share new and old posts.
Choose the time between posts.
Choose the number of posts to share.
Use hashtags to focus on topics.
Include links back to your site.
Exclude categories
Exclude specific posts.
Though with the pro version you can do a little more, I only use this plugin to re-post old posts to Twitter, so the free version works fine for me. The pro version will also allow you to post pages, the free version will only allow you to re-publish posts.
Setting it up is as simple as being logged into your Twitter account, clicking "add account", adjust your general settings (Minimum interval between shares, Minimum age of post to be eligible for sharing, Exclude Specific Categories and a few more) and clicking "Start Sharing".
If you want to see a live demo of the plugin you can check http://www.youtube.com/watch?v=YOnlWmyO3VU.
I do not use this plugin to post to Facebook, only because it posts to your personal profile and not to your pages. So I use the plugin below to post older posts to Facebook.
Post Past Posts to Facebook Pages
NextScripts: Social Networks Auto-Poster – Auto-repost existing posts from your blog to Facebook. The free version allows you to connect one account, the premium version automatically publishes posts from your blog to multiple accounts on Facebook, Twitter, Google+, Pinterest, LinkedIn, Blogger, Tumblr, Delicious, Plurk, etc profiles and/or pages.
This is an AWESOME plugin for those who are selling anything online. Assuming you have individual product pages and/or posts, you can re-share your products on all you Social Media profiles at a pace you desire.
This plugin is a little more advanced. You will have to create an app with Facebook, though they have an excellent tutorial on how to do it.
Get this excellent plugin from NextScripts: Social Networks Auto-Poster
And there you have it, revive your old posts, publish old posts from WordPress!