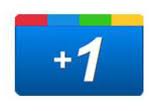 The Google +1 Button is now available as a WordPress plugin! What is the benefit of adding the Google +1 Button to your website or Blog? Adding the +1 button to your pages will let Gmail registered users recommend your article and content. This way, when your Gmail "friends" are doing a search on Google, they will know what their friends and contacts recommendations are when they are most relevant—in Google search results of their search.
"How do I get the Google +1 Button"
There are two good ways to get the button.
Ask Google for the code: You can ask Google for the code to add to your website manually from http://www.google.com/webmasters/+1button. .. or just copy this code as instructed below. 🙂

<!– Place this tag in your head or just before your close body tag –><script type="text/javascript" src="http://apis.google.com/js/plusone.js"></script>
<!– Place this tag where you want the +1 button to render –><g:plusone size="tall">

Download the Plugin for WordPress: For WordPress users you can get it the plugin from Google's +1 Button for WordPress. This is by far the easiest way to get it.
"Who see's the Google +1 Button on Searches?"
Everybody can see aggregate annotations. Those that are signed-in with their Gmail account will also see personalized annotations from:
People that are in their Gmail (or Google Talk) chat list.
People that are in their My Contacts group in Google Contacts.
Do you need it? We are not sure yet of the actual significance or difference it is going to make, Google has come out with a lot of programs lately for social media that have sorta failed, but our thought is… it is Google.