Creating an email capture page with an auto-responder is probably not as difficult as you think and using Google docs it is even easier than ever.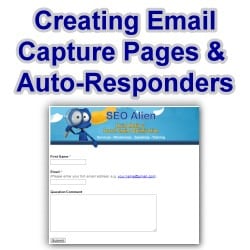 With Google docs you can create spreadsheets, slide shows (similar to PowerPoint) as well as create capture forms that allow you to collect the data in a spreadsheet as well as create autoresponders.
Other simple tasks you can do as well is be notified when people complete your form and depending on your skill level, changing the source of the capture page, you can also change the redirect as well.
One of the other cool features of creating your capture pages with Google Docs is when you paste the link to your form on Google+, it literally shows the form as an image, not just the link.
Below is a sample capture page. After you click submit, it will take you to a "thank you, your form has been sent!" (on this page so you will never leave it) and also send you an auto-responder to your valid email address. Give it a try!
Create Your Email Capture Page with Google Docs!
All this is done from Google Drive using the "Form" tool.. and it is really not as difficult as you may think.
If you have not explored Google Drive and all the cool features they offer, I suggest you do. Creating an email capture page using forms takes no time at all and it is very easy to do.
Adding the autoresponder code and the redirect code is a little more advanced, but I would be happy to show you how.
If you would like a complete tutorial on how you can create your own Email Capture Page with Autoresponder in less than 10 minutes, complete the form above and follow the instructions!