With the variety of SEO Plugins available for WordPress it is difficult to know what is the best SEO plugin to use for your WordPress site. After researching and using several highly recommended ones, I have come to my conclusion of what is the best SEO Plugin for WordPress.
Before we talk about the best SEO Plugin for WordPress, let's first talk about what a SEO Plugin function is. This may help you better understand why the one I recommend below is the one I call "the best SEO Plugin for WordPress".
The best SEO Plugin keeps getting better! Click for Recent Squirrly Updates
What is the Purpose and Function of a SEO Plugin for WordPress?
A SEO WordPress plugin will help you to insert the meta description, title, meta keywords into each post easily, or at least should be easy. Several SEO Plugins require a lot of extra work and end up only taking up more of your time.
The best SEO Plugins will have multi-functionality and will check the simple things you're bound to forget and/or you simply were not aware of.
SEO Plugins will check, for example, if you have images in your post and whether they have an alt tag containing the focus keyword for that post. It also checks whether your posts are long enough, if you've written a meta description and if that meta description contains your focus keyword, if you've used any subheadings within your post, if your title is within the recommended characters, that you have the correct amount of keywords (or too many) etc. etc.
So this is why when looking for the best SEO Plugin for your WordPress blog, there are a few things you will want to consider before you install the one you will use.
1) SEO Functionality: Exactly what does the plugin offer and will it do what you need it to do to get you the most for SEO juice.
2) Power & Ease of Usability: The best SEO Plugin for WordPress should be quick and easy to use. Many of the SEO Plugins I have used require a lot of additional work to get the results you need.
Wouldn't it be nice to have a SEO Plugin that will tell you exactly what you need to do (or not to do) as you are typing the original article instead of having to retype in other resource boxes to get the information you need?
There are several SEO Plugins that I have used that you almost have to be 100% geek to understand how to set it up and use it. Personally, I like simplicity with functionality.
3) Unique Features: I like added bonuses and having something that is unique to a plugin that will save me money and time.
4) Customer Support: If you ever need it, it is nice to know that someone will answer your question promptly.
Considering all the above, this is why I have chosen Squirrly as the best SEO Plugin for WordPress!
What Are Some of the Cool Features that Make Squirrly the Best SEO Plugin for WordPress?
Immediate Keyword and/or Keyphrase Research:
This can not be any easier or any simpler! Before you start writing your articles, type in your keyphrase and the Squirrly SEO Plugin gives you instant SEO research!
Do more research button: Not happy with the keyword or keyphrase you chose? Then click the "Do More Research" link and dozens of other keyphrases surrounding your original keyphrase appear. Simple mouse overs allow you to instantly view how popular a suggested keyword or keyphrase is.
Use this Keyword: After selecting the keyphrase you want, click the "Use this Keyword" button. This will then use that keyphrase to optimize your article for maximum SEO effectiveness!
Get Creative Commons Licensed Images: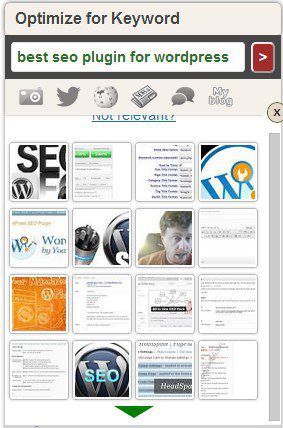 This is a huge unique feature and benefit that I have only found with the Squirrly SEO Plugin.
If you are an active blogger, you will understand how expensive it can be to buy images that you have permission to use. It is not uncommon to pay anywhere from $1.00 to $5.00 for the right image to use in your article.
With the Squirrly SEO Plugin, you only have to click the 'image' icon.
To display free images that you can use, select the "Show Only Copyright Free images" box then it will display only images under Creative Commons, that are free to user and that you won't get sued for using.
Since there aren't such images for every possible keyword, they've also made the "Not relevant?" button. If you click that one, you may try another way of getting to desired images 🙂
For example: Let's say you write about "mobile apps market". It will not show you any images that are free to use. But you can click "not relevant" and type in "mobile apps" and for that one, there are images.
Squirrly Live SEO Assistant:
Instead of having to take excerpts of your article and put them in other resource boxes to evaluate the SEO performance of your article, with the Squirrly Live Assistant, it tells you as you type what you need to do or what you may have overdone! This makes it so simple to change what you need to on the fly, as you type!
Live "SEO Optimizing Pop Ups" as You Type




As you are creating your article, the Squirrly Live Assistant is also visible on the right hand side of your article so you can check how well you have optimized your article.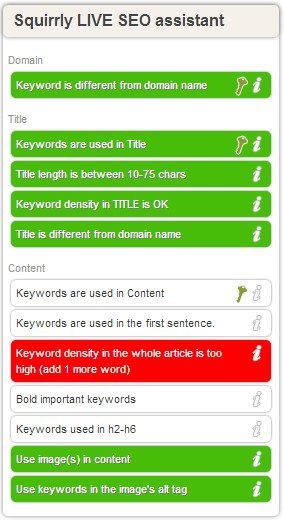 Some of the important SEO optimized features It checks for;
Keywords are used in Title

Title length is between 10-75 characters

Keyword density in TITLE

Keywords are used in Content

Keywords are used in the first sentence.

Keyword density in the whole article

Bold important keywords

Keywords used in h2-h6

Use image(s) in content

Use keywords in the image's alt tag
Customer Service
You will also get excellent customer service from Squirrly, along with excellent SEO.
---
Updates to the best SEO Plugin for WordPress
3-16-2013 – Country Based Keyword Research – They've added certain countries for which you can do your keyword research. If you're interested in the German market, for example, you can now find the right keywords that will help you rank well in searches from Germany. And you can do this in German.
As a fun experiment, I tried to see if "maple syrup" was searched for more in the U.S. then Canada. And it was 🙂 Hehe, pretty nice to get insights from different markets.
3-16-2013 – Compatibility Solved – Unlike many of the other SEO Plugins, now you can use a lot more plugins with Squirrly SEO, because they fixed lots of compatibility issues and now we can happily announce you that you can use any Cache plugin you want, because unlike other plugins, with Squirrly they do work 🙂
---
Write SEO Content like a pro! Download Squirrly, the best SEO Plugin for WordPress and optimize the content on your WordPress site. Rank Higher! Sell Better!
But wait! the Best SEO Plugin for WordPress does even more! What else does Squirrly automatically do for SEO?
adds the correct title in the home page
adds the correct description and keywords in all pages
adds canonical link in home page
adds the XML Sitemap for search engines: http://www.yoursite.com/sitemap.xml
adds the required METAs for home page (icon, author, language, dc publisher, etc.)
adds the favicon and the icon for Apple devices.
Download the Squirrly SEO Plugin today and test it out for yourself with their free trial and find out why I am calling this "The best SEO Plugin for WordPress"
You will have excellent SEO on your next article! All white hat!