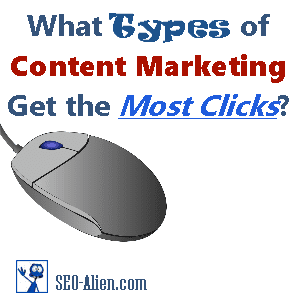 When spending your online marketing dollars, there are several different types of content, from articles to infographics, polls to quizzes. What online marketing content do you find the most engaging?
If you are paying to drive people to your quality content, last month we ran a poll asking "Do You Use Pay-Per-Click Campaigns?" and if you did Pay-Per-Click marketing campaigns, where you paid for pay-per-click ads, Facebook, Google or Yahoo/Bing?
Thanks to everyone that participated in our poll about pay-per-click marketing. I wasn't real surprised about the results, but they were somewhat interesting just in the fact that no-one chose Yahoo/Bing as a pay-per-click source and Facebook vs. Google was pretty darn close.

Now we know where you are spending your money on pay-per-click marketing, (or even if you are not spending a dime on pay-per-click) when anyone lands on your website, one of your goals should be to keep your visitor on your site for as long as possible. Creating quality, relative content is one of the most effective ways to achieve this.
In the last several years, many new types of creating content have become available. Content is not a "text only" thing anymore.
What is the Most Engaging Type of Content Marketing?
What do you feel is the most engaging content? Whether you are an online marketer or visiting a site, which of the following content marketing suggestions below would you be most likely to participate in?
A couple questions to ask yourself before you choose your answer.
What would you most likely click on?
What would you be more likely to share and/or like publicly with your followers?
Thanks for your vote!