Redacted Donald Trump Ukraine Transcript Call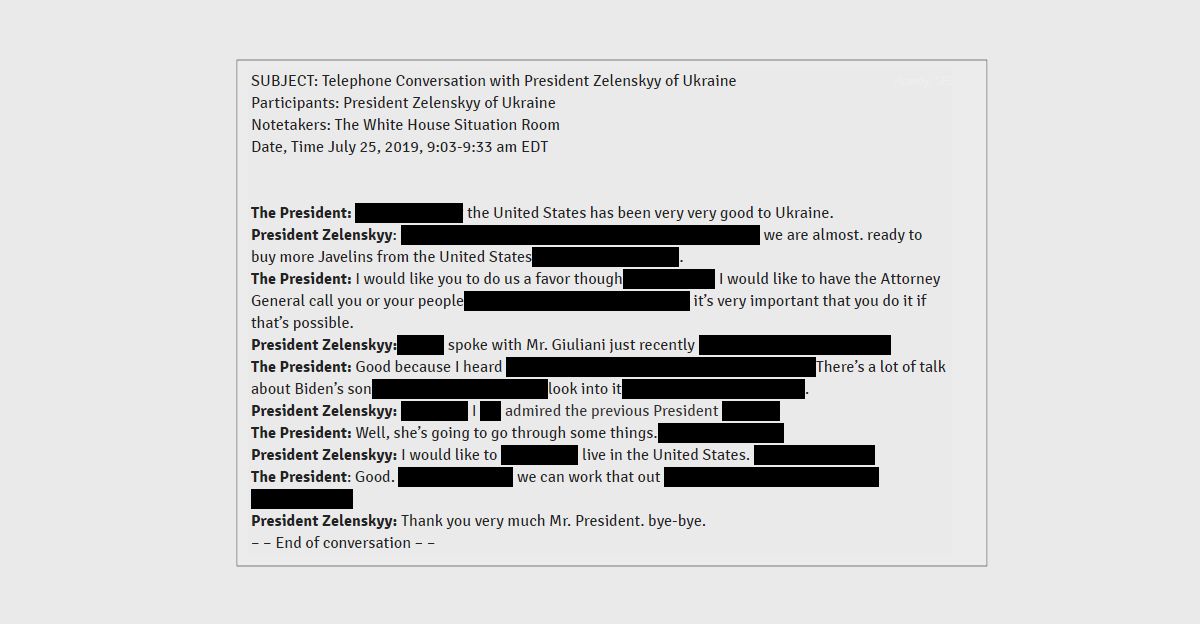 The Democrats want us to believe President Donald Trump repeatedly pushed for Ukrainian President Volodymr Zelensky to investigate former Vice President Joe Biden, and his son, Hunter, during a July 25 phone call, according to a transcript of the conversation released by the White House.
Read The Pelosi and Schiff Redacted Trump phone conversation with Volodymyr Zelensky
Unfortunately for the Democrats, President Donald Trump released the transcript. Below is what the democrats would have released if they had an opportunity to redact the transcript before hand.
Read the Pelosi and Schiff redacted transcript here:
UNCLASSIFIED
Declassified by order of the President
September 24, 2019
MEMORANDUM OF TELEPHONE CONVERSATION
SUBJECT: Telephone Conversation with President Zelenskyy of Ukraine
Participants: President Zelenskyy of Ukraine
Notetakers: The White House Situation Room
Date, Time July 25, 2019, 9:03-9:33 am EDT
The President:
Well it good but
the United States has been very very good to Ukraine.
President Zelenskyy
:
 continue to cooperate for the next steps specifically
we are almost. ready to buy more Javelins from the United States
for defense purposes
.
The President:
 I would like you to do us a favor though
becaume of t
 I would like to have the Attorney General call you or your people
and I would likese er you can do,
it's very important that you do it if that's possible.
President Zelenskyy:
istants
spoke with Mr. Giuliani just recently 
and wThat I can assure you.
The President:
 Good because I heard
you had a prosecutoow that. The other thing,
There's a lot of talk about Biden's son
, that Biden stop  you can
look into it
… It sounds horrible to me
.
President Zelenskyy: 
I w
spe
r to

 I

rec

 admired the previous President

and sgh.
The President: 
Well, she's going to go through some things.
I will have Mr. Giu
President Zelenskyy:
 I would like to
tell you tha
 live in the United States.
Actually last time
The President
: Good.
Well, than
Okay, 
 we can work that out
. I look forward to seeing you in Washington an
President Zelenskyy: Thank you very much Mr. President. bye-bye.
– – End of conversation – –