Let's Make and Market a Squeeze Page! Squeeze pages, also known as Capture Pages are a great way to start building a list or even sell a product.
Even if you do not have a product you sell, there is plenty of product that you can market and start earning money from, but the first step is knowing how to properly create and market a Squeeze Page. You can start earning money on your Squeeze Page in 4 easy steps.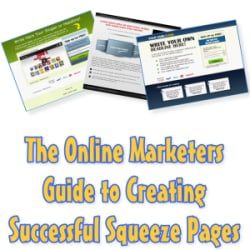 Step One: Knowing how to correctly install/create a quality squeeze page.
Step Two: Knowing how to get your Squeeze Page on the top of Google.
Step Three: Knowing how you market a squeeze page.
Step Four: Create an affiliate program so other people can market your Squeeze Page!
Doing the above four steps is how you are going to create a great opportunity to earn money online!
What to Promote on Your Squeeze Page?
You don't even have to have your own product. You can market a squeeze by either promoting a 'already done for you product' or, if you have your own product to sell, a good squeeze page is an extremely good way to market, promote and sell virtually anything online!
What Do You Need to Create A Quality Squeeze Page?
What you need to get started creating an effective sales strategy to make and promote a Squeeze Page is relatively inexpensive. In most cases you will already have what you need, but here is the checklist.
How to Make and Market a Squeeze Page
[flexsig]