How many Gmail accounts should you have? Well, technically, you can have as many as you want, but I don't think you're doing yourself any favors by doing so.
How many Gmail accounts do you have? If you run multiple businesses and have multiple Gmail accounts for each business, you may want to consolidate those into one Gmail account.
As anyone who uses Google+ and YouTube know, there have been a lot of changes over the last few months with the way Google+ associates your email, your YouTube account(s) and your Google+ page(s).
In the past, most social media trainers may have told you to create a different Gmail account for each business you have, then set up a G+ business page and a YouTube account associated to that email. I don't suggest you do this anymore because Google is allowing you to do more than you could have in the past with one Gmail account.
I think the reason for this is pretty simple, Google wants you to have one Gmail account and then you can create as many Google+ Business pages as you want under that one account profile.
YouTube is now allowing you to verify 2 YouTube accounts per year with the same phone number. If you run out of phone numbers, get a Google voice number and now you have 2 more opportunities to claim other YouTube accounts if you need them.
For Google Hangouts, if you are creating a Hangout using any one of your business pages, you will not be able to create that hangout with verifying your G+ business page with a YouTube account.
So, what do you do if you're using multiple Gmail accounts for your different Google+ Business pages and you would like to consolidate them to one account? Well, it's pretty simple, but the process takes 2 weeks.
Transferring a Google+ Business Page to Your Main Gmail Account.
Simply log into the business account you would like to transfer to your main Gmail account.
Click your logo image at the top right of the page and then click "Page Settings".
From "Page Settings" click "Managers".
Click "Add Managers" using your primary Gmail address/profile. (This should be your primary Google+ account that has your complete profile and the one you use the most.)
You can then "Transfer Ownership" to your primary account. However, at first you will only be a "Manager", after two weeks you can transfer ownership. "Only people who have been managers of a page for over 2 weeks can become the owner"
Now the YouTube channel also associated with the old Gmail with now be associated with your new Gmail.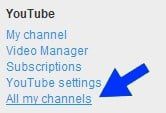 When you are logged into your YouTube account, from the right of your profile image at the top right of the page, click the drop down arrow. Now you will now see a new link for "All my Channels".
Click "All my Channels" and you will now be able to navigate to any of your company pages YouTube accounts.
If anyone has any other suggestions on consolidating Gmail addresses, let me know!