For years I have used Dudamobile for all my clients mobile websites… but now this may surprise you. I discourage anyone thinking about using Dudamobile or if you are currently using Dudamobile, cancel them immediately and find another solution.
Feb 5th 2014 — DUDA Has Resolved this. Will be editing and giving the details soon!
It is not often (or better said never since 2009), that I posted a bad review about anyone or any company, it's just not my style nor my intent for this website…. but Dudamobile has now brought me to this level.
So here is my first negative review, and it just happens to be a negative Dudamobile review.
My Dudamobile Review and Why You Should Never Use Dudamobile!
On may May 07, 2012 I joined the Dudamobile Partner program.

Everything was going fine, joined the program, created several mobile websites for my clients. A few were pretty high-profile, Atlanta Real Estate Investors Alliance, the Tampa Real Estate Investors Alliance and several other Real Estate Brokers and Agents.
On Dec 16, 2015 I received an email.. The first email I have ever received from Dudamobile regarding my account.
Dear Mike,
Due to a billing failure, your DudaPro account will be deactivated on Jan. 9, 2015, unless you update your payment information.
If it is not updated, all custom branding will be removed, as well as access to DudaPro tools (e.g. white label editor, preview tools, etc.) and the Partner Portal. Any existing sites on your account will continue to bill at their normal rate, but all new sites will be charged the full retail price.
Ok, sounds fair enough… guess for some reason since I joined Dudamobile, they haven't contacted me until now about an expired credit card? No biggie, I wasn't creating new mobile sites using Dudamobile, so I decided paying for the DudaPro tools was not necessary anymore, so there was really no need to renew my Dudapro account.
The mobile customers I did have were happy and Dudamobile in the email even stated "Any existing sites on your account will continue to bill at their normal rate, but all new sites will be charged the full retail price."
…but it goes a little deeper than that.
For years, Duda has been billing me as I have been paying them for the sites I created using Dudamobile. As you can see below, the billing continued AFTER Jan. 9, 2015 so I assumed that all was good!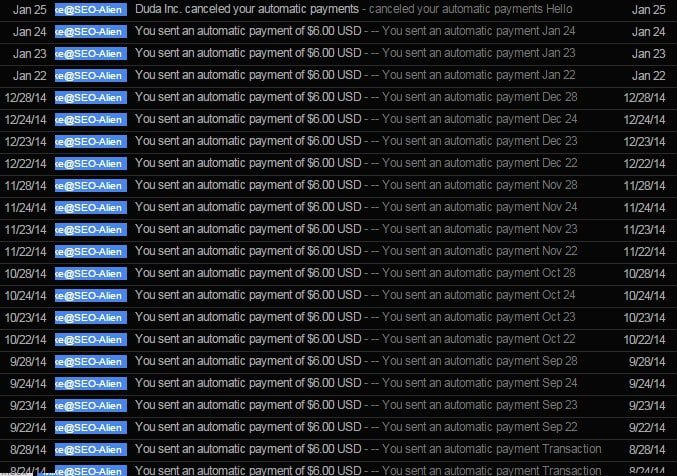 These billing receipts from PayPal go back to when I first joined Dudamobile in 2012, so they had no problem collecting my money.
Then on January 25th, 2015 I receive a series of emails telling me that Dudamobile has canceled all my automatic payments for each of my mobile sites.
Hello Michael,
Duda Inc. canceled your

automatic

payments. This means we'll no longer automatically draw money from your account to pay the merchant. If

you

have any questions,

you

may ask Duda Inc. about this cancellation.
Here's the information:
———————————————————————-
Billed to:PayPal Balance
By:Duda Inc.
So, I did ask Dudamobile about this, and this is their reply.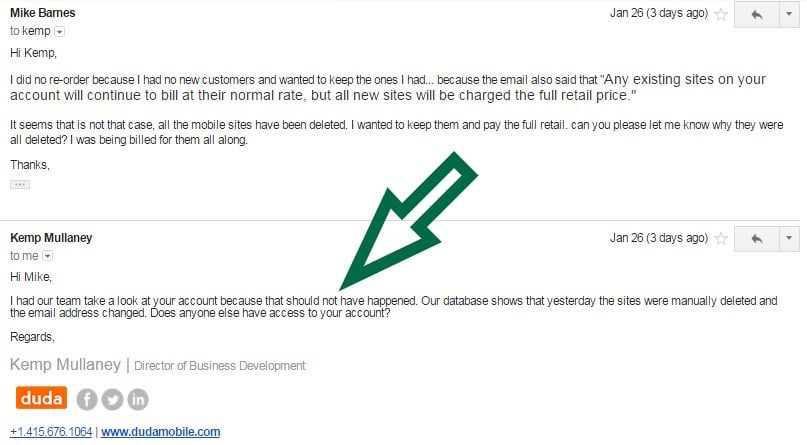 So, they do say "that should not have happened", they admitted something was not right. They claim that someone deleted my accounts and changed the email login to my account…. that is very much a not the case.
So, then I get another email from Dudamobile.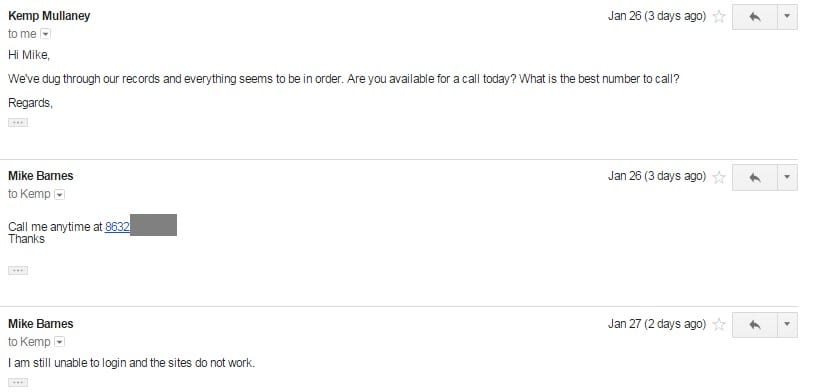 I have since contacted them with 2 other emails and a telephone call with no-reply to my concerns. I now have clients that paid a good price to have me create these sites and (to say the least) they are not very happy.
No regard from Dudamobile to my clients, no return emails… and the best part.. Kemp Mulllaney, so-called "Director of Business Development" even asked for my telephone # and he never called me (3 days before this post).
Then I see this online at http://matemedia.com/tag/dudamobile!
As we reported last week, someDudaMobile customers saw their mobile sites go down

, in whatDudaMobile now explains was "due to a failed billing process" on their part.The bad news is that customers affected by this issue who use PayPal will have to create new payment subscriptions.The good news is that DudaMobile is offering a free year of service to those customers affected by the outage.In an email sent to affected customers, DudaMobile's Director of Customer Support, Kate Hobbie, wrote "We've resolved the problem and it should not happen again…To demonstrate how sorry we are about all of this, we'd like to provide you with one year free with DudaMobile."
Where the heck is my email? Where is your apology to me? Where are my mobile websites that my clients have been paying for and paid a good set-up fee for?
I did not post this in haste, I gave you 3 days to get back to me….No email, no phone call, nothing, only unhappy and disappointed customers…
Thanks Dudamobile! You guys are fantastic bunch!
Please share this post so others don't experience the same fate using Dudamobile!
[flexsig]