Creating a Mobile Friendly Website? Is Your Website Not Mobile Friendly? Capitalize on the growing number of mobile searches by creating user friendly mobile landing pages for your website!
Here are the facts. Mobile advertising is exploding and is going to hit $3 billion by 2012. A Comscore study revealed that 25% of mobile phone users participate in at least one (and up to 10) SMS (text) marketing program monthly. With Advertising Spending increasing, it gives analysts a good indicator of where an industry is headed. Given this rising estimate, it is quite clear that the Mobile segment is going to be highly significant.
Having a website alone will not cut it on mobile, you should have a completely separate website for mobile users. The major differences are:
Available to all: Your mobile website should be easily download-able and run on any phone with a browser. This simply means that you have removed any apps that needs to be downloaded to a cell phone that will ruin any users experience.
Easier to Browse: A mobile website should be relatively easy to browse for the user. Tabs should be easier to see and "tap". This will also allow you to focus your visitors on exactly what is relative and important to the user.
Tap for a Map: When people are searching from their mobile devices, they are typically looking for a specific product, contact info and/or directions to your location. With a Mobile Website you can easily add a "tap" for contact info or "tap" from a map using Google maps.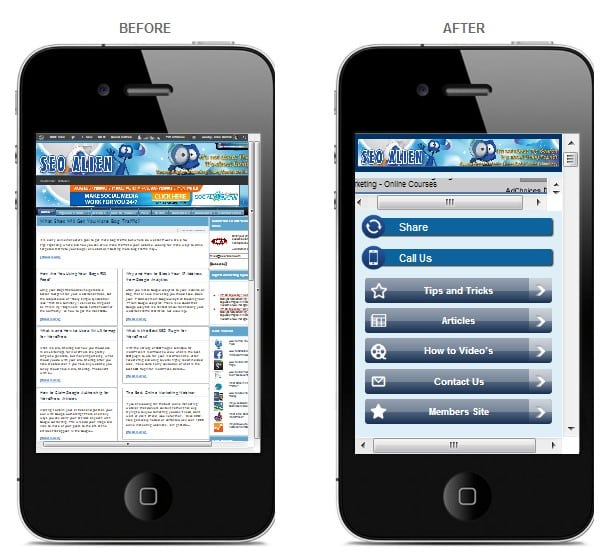 Though there are several apps available to turn your website mobile friendly and certainly their will be more to come, but here are few tips and steps you can take today so you can begin to make the conversion.
Create a mobile optimized website that your website visitors will love!
Create a Mobile site for FREE
! – Customize your website for cell phones with one of many free mobile site templates
. This free mobile site creator also offers a variety of must have features to help you get the most out of your mobile website and provide a high quality browsing experience to your visitors.
Mobile SEO optimized with description and keywords.
Optimized for all smart phones – Works on major smartphones including iPhone, Android, Blackberry and Windows Mobile
A click-to-call button to make it easy for your customers to contact you.
WordPress friendly! Have a site built in WordPress? Duda is built to handle WordPress sites seamlessly!
Other Cool Mobile Friendly Website Tools!
Create a Savvy Business Card: These are extremely flexible Mobile Business cards that you can text to people! These cards are SEO friendly as well as provide a plethora of information to your client about your companies services, contact info, map location as well as a ton more information that you wish to share, all in a easy to use mobile friendly application.
Create and Use QR Codes: QR codes are being used more and more and the nice thing about QR codes is that you can have as many as you want and drive targeted traffic to any mobile landing page you like! You can also set up QR codes that will instantly text several things including your business card or specific product information. Really the only limitation on what can be done here is your imagination.
Tap to Phone Link: When creating a Mobile Phone Website, depending on what tool you are using to create your mobile site, you will want a "Tap to Phone" link to make it easy for people to contact you. Here is the html code to create that link if needed:
<a href="tel:555-555-5555″>555-555-5555</a>
Create Google-friendly mobile websites for FREE at DudaMobile
[flexsig]