If your Blogs thumbnail image won't show when sharing an article from your blog to Facebook, there is a pretty simple solution. Here is how to make sure that your blogs article image show up when you enter your web address or share your post on Facebook.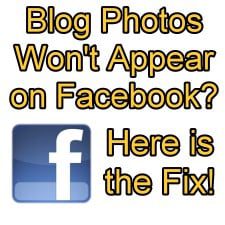 I recently had a challenge with my blogs article images not showing up when either shared on Facebook or even when I directly entered the blog posts URL into a Facebook post to share it.
This drove me crazy, especially after it worked fine for years! I started uninstalling plugins to see if that is what had caused the problem, but only to no avail, the image would still did not show on a Facebook post!
As I researched a solution, I noticed that there are many people having the same problem asking for help, but never saw a solution that worked. So to help anyone from going through the hours of frustration that I went through… here is the solution.
Blog Image Won't Appear on Facebook? Here is the Fix!
Go to Facebooks Debuger and enter the entire URL of the post that is not sharing your image and click "debug".
Go back to your post, then try to share it again using the share buttons or re-paste the URL in a post and try it again… your blog image should now show on Facebook!
Find this information useful?
Please help share it by giving it a tweet!
Tweet this Post!