With Google Custom Search, you make money by placing a Search Engine search box anywhere on your own website and also help customers search for the things they are looking without ever leaving your website!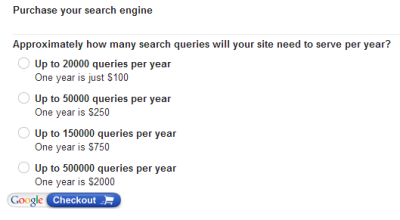 I was using a free version of Google Custom Search to build a Search Engine for this site several years ago, but I gave up on it. I gave up on it because I felt it was not very user friendly and to really get the customization I needed, it costs money… forget that!
Then I found in Google AdSense where you could create your own Google Custom Search Engine for your site FREE that gives you two main search options;
When people use your search it searches the entire web.
When people use your sites Google Custom Search Engine it searches only your website or any number of SELECTED websites.
You also have several different ways to view the search results. You can send them to a "stand alone" results page, or you can embed the search results on your own website!
Another cool feature is you can add your own logo or image to personalize the Google Custom Search to you!

Why Use a Google Custom Search?
For me, there are two main reasons to create and use a Google Custom Search;
Keeps people on your site.
You can make extra cash using Google AdSense.
So, let talk about #2, "You can make extra cash using Google AdSense". Maybe you don't have your own website, but you have lots of Social Media traffic. You can create your own Search Engine, embed it on any free site creator and tell your social media traffic about your Search Engine.
Here is an example of a Google custom Search I embedded on a free website created using Google Sites. When people search, the search results end up on a stand alone page… not much required by you at all. (NOTE: The results are for this site only, if you do not have your own site you can set the search to search the entire web.)
Either way, if you don't have a website or if you do have a website, you can create your own custom search, drive traffic to it and earn a little extra cash with Google AdSense.
How to Create Your Own Free Google Custom Search Engine
Step One: Obviously you will want to create an account with Google AdSense. This is simple to do and to start making money you only need to connect it to your bank account for direct deposits.
Step Two: Once logged into your Google AdSense account, navigate to 'My Adds' -> 'Search' -> 'Create a New Search'
Step Three: Simply follow the steps that Google AdSense provides and it can't get any easier!
Step Four: Send people to your Search and/or embed it on your website using the code provided!
SPECIAL NOTE: Do not get your account banned by Google AdSense by doing something you may or may not know is against Google AdSense guidelines.
Publishers may not pre-populate the search box with terms or hard-code direct links to search results pages.
The AdSense code may not be integrated into software applications such as a toolbar.
Pages containing the AdSense code may not be loaded by software that can modify browser settings, such as resetting a user's homepage or taking users to unwanted websites.
So there you have it, how to create your own Google Custom Search Engine, Brand it, Share it and/or embed it on your website and possibly make a little extra cash by having it!
[flexsig]
[bha size='488×160′ variation='04' align='aligncenter']