Embed quizzes into your website to connect with your audience, collect emails and much more.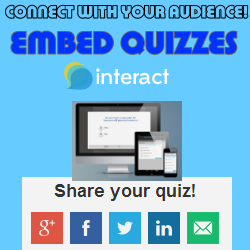 Looking for another interactive way to get more social media interaction? Build your list or simply create a survey of current or future customers! Embed Quizzes on your website, share on social media and get results!
The people from tryinteract.com contacted me to try out there form builder and not only am I impressed with all the different options , but the customer support is pretty darn good as well!
Below is a little survey I created so you can see for yourself how cool this is! (You can also embed the form on your page as well, but I used another option they offer, the Widget to Glowbox)
Compare Your Online Experience
As of today, if you would like to ask for an opt-in email address before showing the results of your quiz, you can sign in with Mailchimp, Aweber email client or even use Feedburner (Ininbox will hopefully be added very soon as well.)
Stay tuned, because there is a lot more to come about this as we add it to our "List Building Secrets" series!
[flexsig]