We are looking for some SEO enthusiasts who like to write their SEO tips for this blog. In return the SEO Alien is willing to give you credit, a back-link to your website and more importantly for you, we will do our SEO Alien magic and do our best to get your post all over cyberspace and to the top of search engines in return for your contribution.
For the most part ping.fm is a status update tool that sends your updates to a bunch of your list of blogging, microblogging and social bookmarking services like bebo, blogger, facebook, hi5, jaiku, linkedin, livejournal, myspace, pownce, tumblr and twitter and many others. But how well does it work when using it for search engine optimization purposes?
For a lot of people website SEO or search engine optimization, is some sort of automagic stuff that is done by techies and maybe, if they put a few years…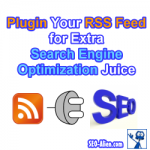 If you are looking for a powerful way to create some extra "Google Juice" for your blogs,websites, videos, articles, etc, you need to be using feeds.