Be a Guest Writer on the SEO-Alien!
Share Your Talent, Skills and Services on the SEO-Alien!
Looking for a way to get additional exposure for you, your company and/or your talent? Become a guest writer on the SEO-Alien!
We are specifically looking for companies or individual guest writers who would like to share their expertise on any one of these related subjects: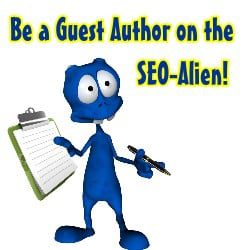 Search Engine Optimization
Social Media Marketing
Social Media Management
Social Media Optimization
E-mail Marketing
Mobile Marketing
Mobile Website Design
Search Engine Marketing
Local Search Marketing
WordPress/Blogging
.. or any specific niche related to any of the above!
For each article you provide us we will also submit your article (at minimum) to all of the following SEO Alien bookmarking and Social Media sites for even more exposure!
LinkedIn Groups
loveit
… as well as being included in all our existing RSS Feeds that literally go out to hundreds of posts and subscribers.
..But that's not all!!
We want to give the credit where credit is due, so on every article we will include.
Author bio (image linked to your email avatar, preferably your Gmail.)
Keyword titled and tagged backlinks
2 readable backlinks (one in the article, one in the Author bio)
Here are the guidelines to get approval and have your articles published.
You must have a Google+ profile
Must be original, unique, never posted material. (checked via Copyscape)
Minimal 350 word articles (they don't need to be more that 450, but that is up to you)
Must be relevant to any the subjects listed above.
You Get All The Credit!
Simply provide us with your content and we will do all the rest!
Be a Guest Writer on the SEO-Alien!!
For a limited time, we will submit your article as explained above for no charge! Simple enough? Submit your article and give us a shot!