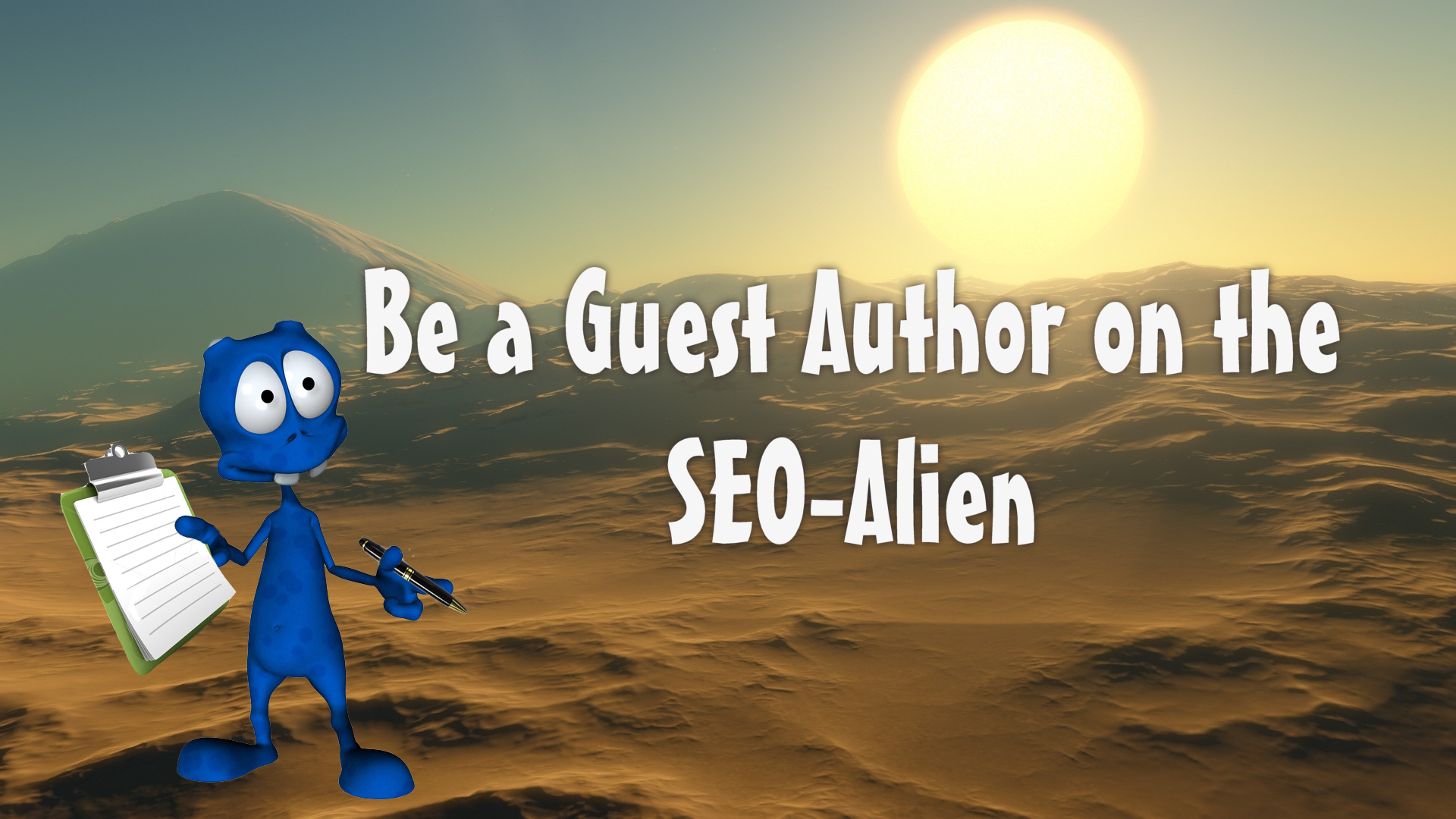 Share Your Talent, Skills, and Services on the SEO-Alien!
Looking for a way to get additional exposure for you, your company and/or your talent? Now is your chance to become a guest writer on the SEO-Alien!
We Love Guest Author Posts!
Are you are a writer and looking for a great place to post your content? Do you write for companies for backlinking and SEO? Or perhaps you are an individual writer who would like to share their expertise and get some exposure. If you know your stuff and can write about it, we would like to hear about it! We accept guest post articles on any one of these related subjects:
Search Engine Optimization
Social Media Marketing
Social Media Management
Social Media Optimization
E-mail Marketing
Mobile Marketing
Mobile Website Design
Search Engine Marketing
Local Search Marketing
WordPress/Blogging
.. or any specific niche related to any of the above!
.

..but that's not all!
We want to give the credit where credit is due, so on every article, we will include:
Author Bio (If provided)
3 readable backlinks

Two in the article
One in the Author Bio
No links in the first  1/3 of article.

Links to your major social media sites
Article Guidelines
Couple rules for our guest Author posts that we are starting to get stricter on.
Must be original content,  (never previously published).
Minimum of 350 words. (Exceptions for infographics and another similar type of posts).
You, the provider of the article must be or include the original author's email address. If not, we may still post it but the authorship will be by the SEO-Alien.
The content has to be Online Social Media Marketing/Search Engine Marketing/Online Marketing related.
The article must contain useful, easy to understand information that provides a benefit to readers and followers.
We do not accept images from unknown sources unless they are screen shots that pertain to the tutorial of the article, (if necessary). Links to images from copyright free image sources like

pixabay

or

blogpiks

are accepted. 
If provided, the featured image size (the image shared on social sites when the article is shared) must be 940px wide x 500px tall .jpg or .png. If no featured image is provided, we will create one that realates with the article.
Be a Guest Writer on the SEO-Alien!
For a limited time, we will submit your article as explained above for no charge! Simple enough? Submit your article and get some exposure on the SEO-Alien!