Google Docs has this cool app called Google Forms. I have posted and shared a few things about it, but the more I use it the better Google Drive is getting.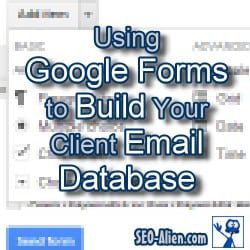 I am starting to come up with a few creative ways that you can use Google Drives Forms. You can use Google Forms for many reasons including getting testimonials, collecting surveys and… collecting leads, (e-mails more exactly).
You can also be notified when responses change and all responses are stored in a spread sheet. So in some cases when you need to be notified, you can get an email sent to you immediately or all of the changes once a day. We have been using Google Forms for our contact page for some time now and it is pretty cool.
With Google Forms you can easily create a form for practically any reason! One feature that I thought was pretty nifty is you can redirect to another part of the questionnaire based on peoples answers, but it doesn't stop there! If you are marketing online, you need to start exploring Google Drive and create a form to see all the different options for yourself!
After you create your Google Form, there are dozens of ways that you can easily share it, either by embedding it on your blog and/or share it directly on your Social Media sites. (Business or personal pages.)
Take the quick Survey below, follow the instructions and see if this gives you any ideas!
Hope that gets you thinking.. and thinking about Google Drive and creating some Google Forms!
(I would be interested in seeing what you come up with, please feel free to post a link to your form in the comments below!)
[flexsig]